When the baby is relatively young, many things are essential, such as guardrails, which can prevent the baby from falling, and will definitely play a protective role at a certain stage, but if it is still used after that stage, it will inevitably hinder the baby's growth. , So, how old is the baby fence better?
At the age of 4 or when the baby can climb over the children's gate, the baby's hands and feet are flexible and can clearly distinguish between low and dangerous places. When your baby is able to sleep in one position all night, it usually doesn't take until he is 3-4 years old before the rails can be removed from his bed. During the first few weeks of removing the guardrails, try to lean against his bed with something soft to give him a habit of getting used to.
Why should the baby's guardrail be removed in time?
Guardrails are a great thing for parents to keep their baby in one place and only mess up that one place. It is also a good thing for babies who like to develop toys and entertain themselves. But many babies who hate being restrained also need to move outside the fence in addition to moving in the fence. One of your baby's favorite games is to throw all the toys out and cry to get them back. It is rare to refuse to play in a pen until the baby can crawl, but this is not always the case. Inside the pen, babies are indeed deprived of the attention and interactions that are vital to developing their physical and social skills. Try to have a stair door to block the door, change the parents' view of "cleanliness", turn a place in the home into a play space, and enjoy this play time with your baby while playing.
Everything has a degree. When the baby knows how to climb over the guardrail, it means that it has hindered the pace of his own growth, so as a parent, you should make up your mind to remove the guardrail. Baby guardrails are not necessarily used at the age of 4. Some babies may withdraw earlier or later than others because of their physical fitness.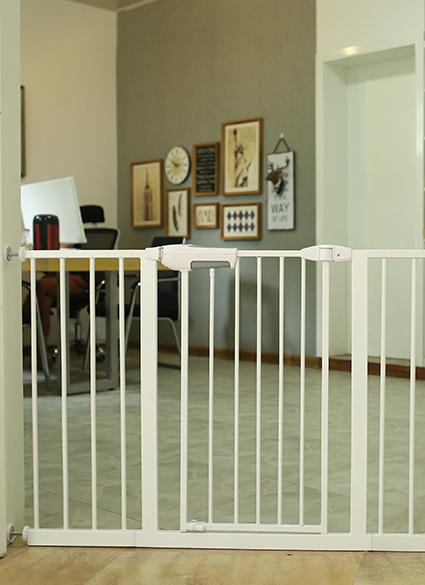 Taizhou Raul Children Products Co., Ltd.
is a professional manufacturer that designs and sells children and pets safety protection products. As a famous China baby safety stair gates manufacturers and baby safety stair gates suppliers ,We firmly stick to the principle of producing high-quality products and offering a well-considerate service. We work for children safety protective equipment in a complete field. For example, baby safety gate, safety window, pet isolation bar, extension bar and other baby safety products. We have nice fence type mold and strong supply capacity. Our products sell well at home and abroad. Our brand is Linz. We provide our clients with OEM/ODM, wholesale baby safety stair gates , retail and other services.