1. Material
Environmental protection and no peculiar smell, pay attention to materials when choosing, after all, it will affect health. This one in my family is PE, and it really has no smell when I buy it, so I am very relieved to use it.
Thick and hard and hard people. The fact that the fence can be used for a long time is to protect the safety of the baby, and can be his own play area when he grows up. Therefore, the quality must be guaranteed. Our home is now his reading room. However, the door, which is often opened and closed, has been broken at the loose leaf. Very good, I can't use the door when I grow up.
2. Modeling
Pay attention to whether there are cards and hand and foot card heads. The gap between the fence and the fence should be as narrow as possible to prevent it from getting stuck on the baby's body.
Watch out if you can climb out. At this time, mothers with babies should pay special attention. When the baby can crawl, we have to go away, the pen is a safer place. However, if there are too many beams on the fence, the baby will have a foothold when it climbs up, and it is easy to climb out and "break out" accidentally.
3. Door lock
Keep your door locks on the outside, because no matter how complicated the locks are, your "little smarts" can always learn. Then, while you're not looking, slip out.
4. Function
The main function of the fence is protection, and it doesn't really matter if you don't have toys and music. Either way, we'll buy a lot of other toys as well. In addition, the toy lights that come with some fences are too dazzling, or the sound quality of the music is poor, which will have the opposite effect.
5. Anti-skid
It is not easy to deform after putting it away, so it is not easy for the baby to push it, which is conducive to taking care of it.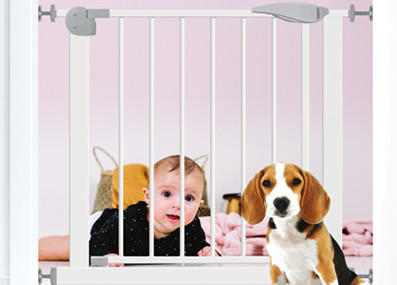 Taizhou Raul Children Products Co., Ltd.
is a professional manufacturer that designs and sells children and pets safety protection products. As a famous China baby safety stair gates manufacturers and baby safety stair gates suppliers ,We firmly stick to the principle of producing high-quality products and offering a well-considerate service. We work for children safety protective equipment in a complete field. For example, baby safety gate, safety window, pet isolation bar, extension bar and other baby safety products. We have nice fence type mold and strong supply capacity. Our products sell well at home and abroad. Our brand is Linz. We provide our clients with OEM/ODM, wholesale baby safety stair gates , retail and other services.