A fireplace is a wonderful addition to any home, providing warmth and a cozy ambiance during colder months. However, it can also pose a serious danger to young children and pets. Installing a fireplace safety fence is a simple yet effective way to prevent accidents and protect your loved ones.
A
fireplace safety fence
is designed to create a barrier around your fireplace, preventing children and pets from accessing the hot surfaces. These fences are typically made of sturdy materials such as metal, tempered glass or heat-resistant plastic, and can be customized to fit the size and shape of your fireplace. They can also be mounted to the wall for added stability and security.
One of the main benefits of a fireplace safety fence is that it provides peace of mind for parents and pet owners. With a safety fence in place, you can rest easy knowing that your children and pets are protected from the heat and flames of the fireplace. You can enjoy the warmth and ambiance of your fireplace without worrying about accidents or injuries.
In addition to providing safety, a fireplace safety fence can also enhance the style of your home. Modern safety fences come in a range of designs and materials, allowing you to choose one that complements your decor. Some even feature decorative elements like scrollwork or decorative motifs, adding a touch of elegance to your fireplace.
In conclusion, a fireplace safety fence is a wise investment for any family with young children or pets. It provides an effective barrier against the dangers of the fireplace while also adding a stylish touch to your home. With a fireplace safety fence in place, you can enjoy the warmth and comfort of your fireplace with peace of mind.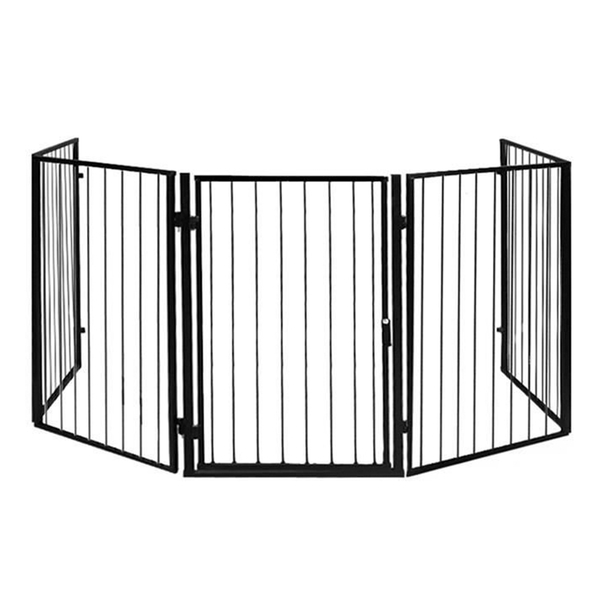 Main Features:
Easy assemble, can match with more extended parts for a wider room
Model SF-002
Material Iron+ABS Plastic
Application Use on fireplace or as a baby playpen
Product size W60XH76cm 5pcs
Totally width 304m
Certificate SGS, EN1930:2011, EN71
CTN Size 63X10X78cm
N.W./G.W. 10kgs/11.5kgs
20FT QTY 510pcs
40GP QTY 1120pcs
40HQ QTY 1320pcs