Whether you want to buy a
baby safety fence
for your baby depends on why you and your wife use it, because the baby needs to be accompanied when growing up, and the fence is only to assist the parents and give the baby an extra layer of security. The specific benefits of using a playpen for your baby are as follows:
●Liberate your and your wife's hands
You and your wife can put the baby in the playpen and let the baby play by himself while you work, cook, or do other things.
Playpens with crawling mats and other fun toys allow baby to play quietly on his own instead of crying in his crib because he can't see you and your wife.
●Protect your baby's safety
The children's playpen can isolate the baby's own space and temporarily isolate it from the dangerous world outside, so as to protect the baby's safety.
Be aware that seemingly ordinary things such as glasses on the table, table corners, stool legs, etc., may cause serious harm to the baby.
●Cultivate the baby's independent ability
The children's playpen can provide a safe personal space for the baby. Its built-in game bar or toys can let the baby play to the fullest, help to cultivate the baby's concentration and exploration ability, and at the same time enhance the ability to be alone, so as to avoid negative effects on you and your wife. Much dependent.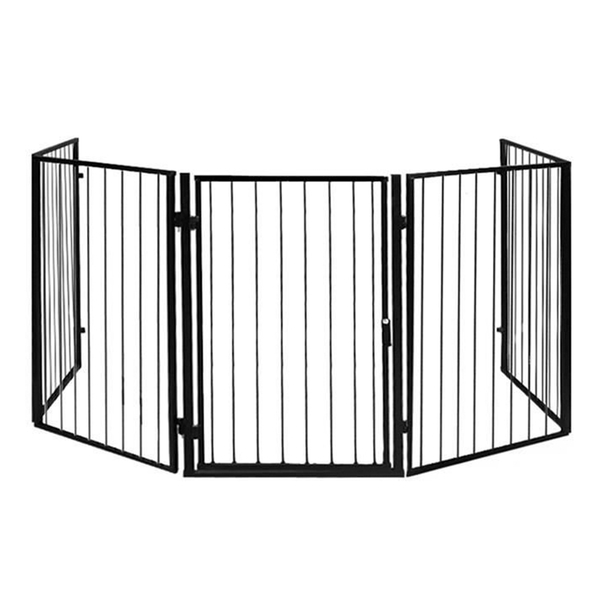 Main Features:
Easy assemble, can match with more extended parts for a wider room.
Model:SF-002
Material:Iron+ABS Plastic
Application:Use on fireplace or as a baby playpen
Product size:W60XH76cm 5pcs
Totally width:304m
Certificate:SGS, EN1930:2011, EN71
CTN Size:63X10X78cm
N.W./G.W.:10kgs/11.5kgs
20FT QTY:510pcs
40GP QTY:1120pcs
40HQ QTY:1320pcs