If you want to give your baby the safety and security he or she needs, a
baby safety fence
is an important investment. These devices help prevent your child from falling, being injured or choking. These fences come in a variety of styles and can be wall mounted, pressure mounted or portable.
multifunctional door
A multifunctional door for a baby safety fence can be a great investment in child safety. This versatile part is easy to install and use. It comes in six different widths so you can choose a door that is comfortable and lets you open and close with one hand. Plus, it has a two-inch bar on the bottom for stability. One downside to this door is that it doesn't close automatically, instead you have to turn the latch in to lock it.
For those looking for a stylish gate, this baby safety fence is a great choice. Made of heavy-duty steel, this door features a unique finish that is both aesthetically pleasing and functional. It comes with a child lock for easy installation. Gates can be installed to suit the design of your home.
pressure installation
Pressure-mounted baby safety fences are an easy way to keep your baby safe. Pressure mount doors are easy to install and leave no marks on the wall, making them a great choice for tight spaces. They have the added benefit of not requiring you to drill holes in walls or stairs to install them.
However, there are a few things to keep in mind when shopping for a pressure-mounted baby safety fence. A major disadvantage is that the door can come loose when your baby puts a lot of weight on it. If this happens, it could cause serious harm to your baby. Also, a pressure-mounted door is not suitable for use on stairs, as its weight can cause it to give way and collapse under a child's weight.
Pressure-mounted gates are safer than traditional gates. Unlike hardware gates, pressure mounted gates do not require any drilling or tools to install. These doors can be moved and installed in minutes and are ideal for areas where babies can fall and cause injury.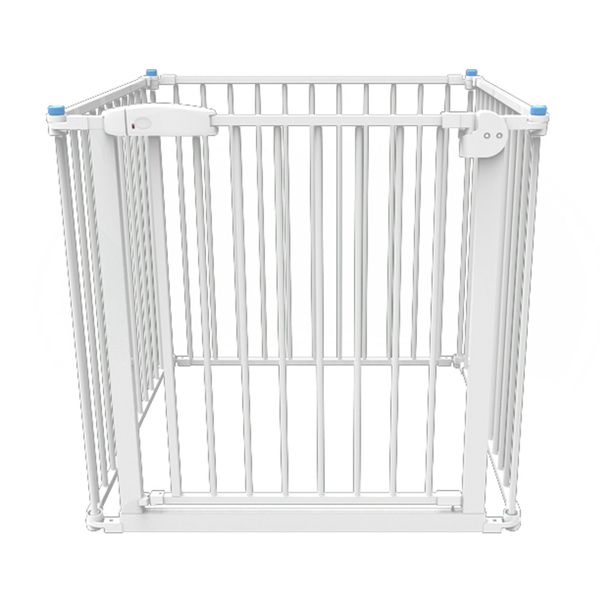 Indoor children playyard portable safety fence kids safety fence for babies baby playpen indoor SF-001
Model:SF-001
Material:Iron+ABS Plastic
Application:Use on fireplace or as a baby playpen
Product size:Door W70XH76cm 1 pc,W60XH76cm 4 pcs
Installation Width:75 to 82cm(>82cm with extended part)
Passage:60cm,Totally width 310cm
Certificate:SGS, EN1930:2011, EN71
CTN Size:74X13X81cm
N.W./G.W.:12.7kgs/13.7kgs
20FT QTY:400pcs
40GP QTY:800pcs
40HQ QTY:920pcs